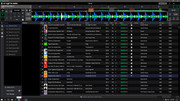 Just spent a little time importing music files from Traktor Pro into Engine Prime, and so far I must say I'm impressed. Over the last six months I've tried Serato DJ as well as Pioneer Rekordbox. I used Record Buddy 2 to switch my library and cues and loops. It's refreshing to not have to use a third party App this time around. I liked how my loops and cue points are all spot on.Thanks Denon! With Serato DJ and Pioneer Rekordbox I would more often than not have to adjust the loops on almost every track.
I also like the default colors for the cue points and loops. No need to mess with those. Sound quality with Engine prime is good, but the signal is HOT. I had to turn the gains all the way down on my mixer.
I only have one complaint. For the life of me, I can't understand why there's no "Metronome" feature.
I know it's already been requested, but IMHO, this is something that should have been implemented from the beginning, hopefully it will be added at a later update. Overall I like Engine Prime. Now if they would just hurry up and ship my SC6000s already.