It definitely is too low for me. I may look into the legs.
I don't have any wobble at all with the official Kallax castors with the break on them. I have so much vinyl weight on it that I haven't had to put the break on. the height is perfect as they are similar to the legs.
Mine looks the same as this but with no draws and all vinyl: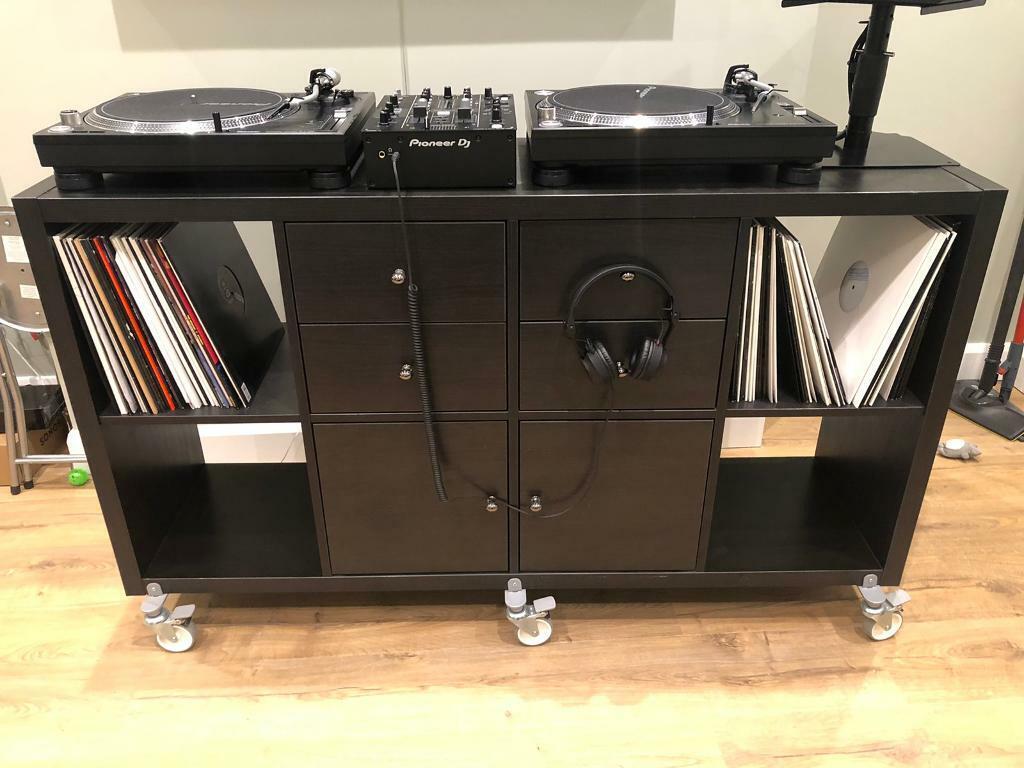 Get Capita legs, attach them to the underside of a thick tabletop that you place on top of the Expedit. You will get an extra 5,625" of height + added depth.
It seems that the official Kallax castors was discontinued early 2019.
I have just found some on eBay fetching over double what they was originally. Ouch!
my desk, i don't know what I'm doing by the way.
just trying to teach myself to dj and it is going slow
Finally got rid of the 2000NXS2s and got a new pedal. Now I just need to figure out a way to setup my Technics MK5s, and I'll be content.
Neat setup! I thought about the Xone + effects for some time, too. I'm now considering buying it all in one box (DJM-V10).
How do you use the Technics? Traktor DVS?
That Bozure ISO-201 is on my list for a long time now…
Yeah, I've been tempted to get a V10 (LF) for a while now. But, I heard a few demos of it and the EQs are kinda' muddy…especially in the mid-lows and lows. The X:96 sounds sooooo 'effin LUSH!! Especially with real vinyl. As for the Techs, I actually just play real vinyl on them. For 14 years I used Serato, but once I bought the Xone:PX5, and then subsequently the Xone:96 (neither of which are Serato ready) I pretty much ditched Serato for CDJs full time.
Yeah it's SUPER clean, and totally worth the loot!!
very cool to see all your dj sets. i'm doing that since 20 years and have much respect for everyone doing this as hobby at home.
here is my pioneer set from 2018 till end 2020:
that is my actual Denon DJ PRIME 4 set:
front audio:
rear audio and lights:
and now i pray that i will get my X1850 & SC6000 set soon…
Nice setup! How long have you been using the head for? Do you always rest the headphones on it? I ask because I bought a sick scull for the same reason but when I put my headphones on it, I felt like it was extended more that I would want to see it for resting mode and it applies pressure on the foam basically all the time so I never used it for the headphones and just as audience now
Look forward to hearing your experience.
Thx
hi Shian, the glas head is an old head my dad owns in the 80s. it's mine since 20 years i think. i just have it for decoration. the headphones on it are my old and first bought sony dj headphones i don't use anymore. the headphones i use now lie beside the decks, because it is as you say. the glas head is not that big, but i think it will expand my dj headphones. i think it is good for old or maybe new hifi headphones.