Video for the "Force Tutorial Series – Hybrid DJing with force" + Denon sc5000 and Denon DJ X1800* (*laptop running any DJ software that runs Ableton Link not pictured):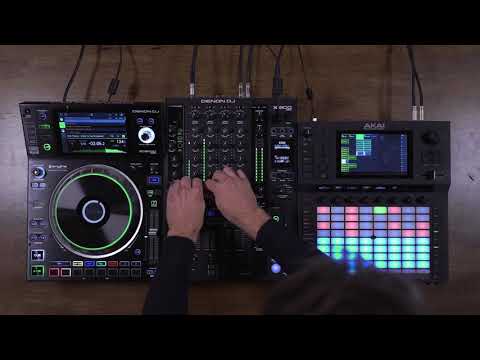 "Redefine your expectations."
Yeah, kind of redefined in a super disappointed in Denon DJ sort of way. I hope this isn't the tone for the future.
OK, so instead of designing all of this using the ethernet link cable (found on both Denon products and the Akai in this video) via whatever proprietary protocol (stagelinq?) Denon created, they want us to use "any DJ software that supports Ableton Link" (to paraphrase), etc.
Fine. Could be a giant game ending decision on Denon's part (#CHANGEYOURRIDERAGAINUGH), but that's speculative and up for debate - though say what you will (and I say plenty) about Pioneer DJ's Pro DJ Link but at least my (no longer up for sale) DJS-1000 talks to my DJM-900nxs2 and XDJ/CDJs without a laptop in the mix (no pun intended).
But COME ON DENON (and AKAI- this video is designed to be deceptive in regards to casually dropping in the bit about the laptop being necessary component to all of this and NOT showing it in this video. Totally no different than Pioneer DJ's recent wave of ads promoting the DDJ-1000 - the "four channel DJ controller" - as an obvious retort (though misleading) to the Prime 4.
I was pretty much ready to go ALL IN for Denon, but I can't help but think this is a harbinger for what's to come. Please let me know be 100% totally and completely wrong about all of the above. I want to by a second sc5000. I want to sell off m DJS-1000 and trade up for something that 'talks' to the Prime ecosystem sans laptop. I want to talk smack about Pioneer DJ and not have end on the qualification "well, Pioneer DJ is horrible but the only thing worse is everything else out there…"
[originally posted in FB Denon DJ page]